Rudy Nicolas - Your Florida Real Estate Connection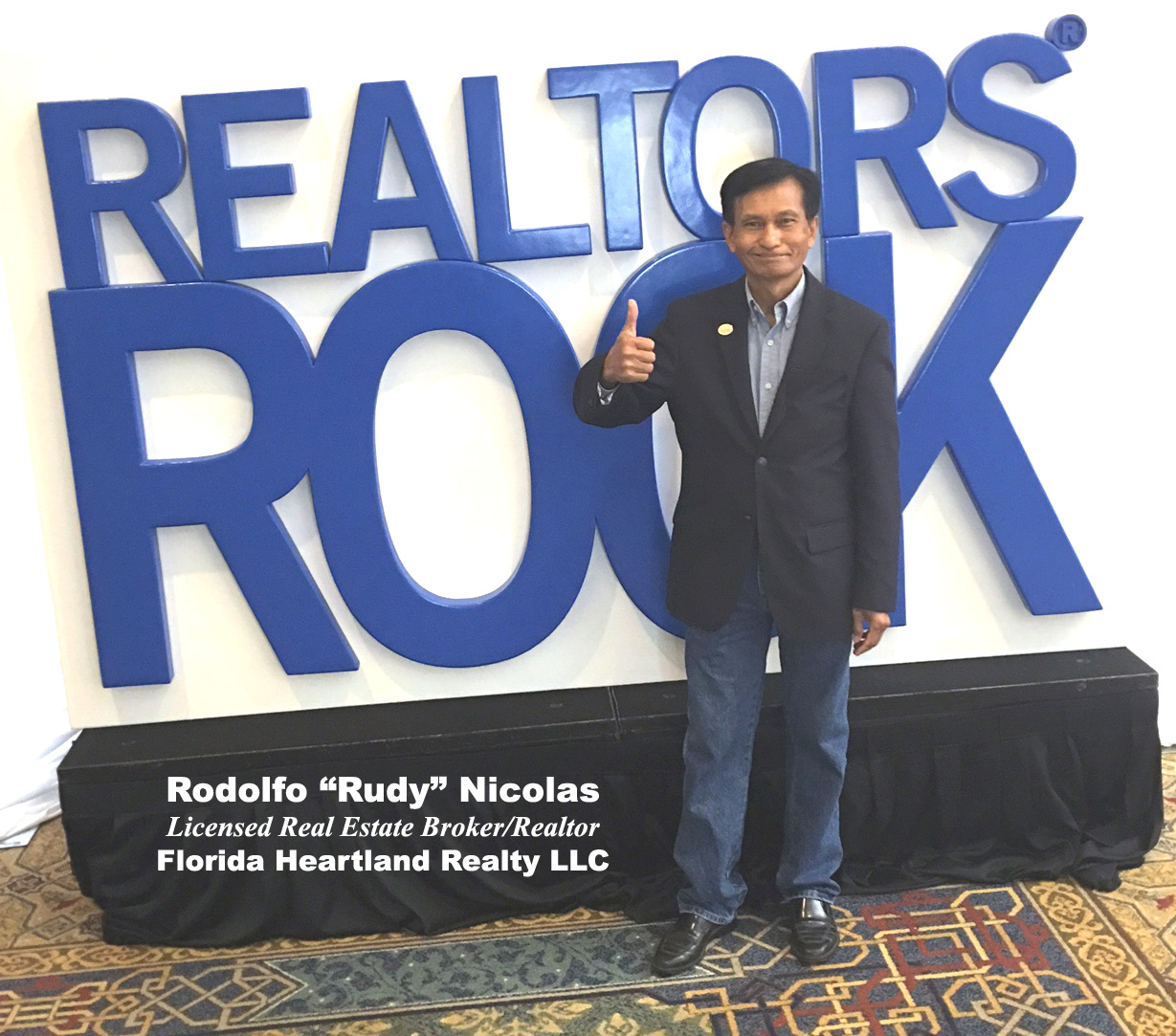 Rodolfo "Rudy" Nicolas is a Licensed Real Estate Broker in Florida. He launched his own brokerage company, Florida Heartland Realty LLC, in January 2019 after working with Keller Williams Cornerstone Realty as sales associate for the last eight years where he gained considerable experience in real estate business. Rudy began his career in real estate in January 2011 after obtaining his real estate license from the state of Florida.
Rudy moved to Florida in late 2009 after purchasing his own home here. Prior to moving to Florida, he has owned and managed a promotional products business in New Jersey where he has been active in community service having been a member of the Union Rotary Club and other non-profit community organizations. He is Chairman Emeritus of the National Federation of Filipino American Associations, Eastern Region. His involvement in community organizations has helped him develop a network of contacts from New Jersey, Pennsylvania, New York, Connecticut, Rhode Island, Massachusetts, New Hampshire, Maine and other states.
Realizing that Ocala and the Marion county area is an ideal place to live, he decided to get into the real estate business so he could help members of his extended family, friends and acquaintances to relocate, buy second home or invest in real estate in Florida, which explains why many of his buying transactions are from out of state clients.
Whether you are from out of the country, out of state or within the local area, Rudy can help you realize your American Dream of owning your own home.
Having been a resident of Ocala/Marion County for many years provides Rudy extensive knowledge of the area and its communities which serve as an asset in helping sellers in the area sell their homes. His first-hand knowledge of the local market, industry expertise and access to technological tools give him a unique advantage in helping his clients in the area sell their homes..
Rudy is a Florida Probate Real Estate Specialist serving Personal Representatives of probate estates who in most cases are dealing with this task for the very first time. As such, he is well-grounded on the nuances of the probate process. When it comes to selling probate, trust or inherited properties, not all real estate agents are created equal, he provides the experience, knowledge and other resources other agents cannot bring to the table.
Rudy is a member of the National Association of Realtors and as such, he subscribes to the Realtor Code of Ethics which serves as his guide in dealing with his clients.
If you are looking to buy or sell you can be confident that Rudy will provide you with the exceptional service that you deserve.
Rudy's Mission Statement:
Rudy's philosophy is simple: clients come first. He sees to it that he is in constant communication with his clients and keep them fully informed throughout the entire buying or selling process. It is his goal to ensure his clients receive professional, personalized service before, during and after the sale or purchase of their home. Rudy doesn't measure success through achievements or awards, but through the satisfaction of his clients.